Every Musician knows that fans are what drive their business.  Building a Fanbase of loyal followers is critical to obtaining success in the Modern Music Industry.  Of course, building a fanbase is not easy!  It takes a lot of work and dedication to create a audience of people that are loyal.
Why Build a Fanbase
Before diving into the 5 Ways to Build a Fanbase, we thought it would be good to get into some of the reasons why it is as important, if not more important, to build fans than it is to practice your music.  Seriously?  Is this a joke?  We can hear you ask these questions through the internet 🙂
Seriously, think about this point for a minute.  We all see some really BAD! musicians make it all of the time while many great artist never make it out of the local Bar Scene. What's up with that?
Don't take our word for it.  Here's a video for you guys's and gal's to ponder.  This is a video of Britney Spears live in a couple of different concerts.  The fun part of this video is they isolated her wireless mic signal.  Curious what her voice sounds like without any processing?  Before watching this, keep in mind that Britney Spears is one of the top grossing female artist…
The Music Industry from a Social Perspective
Now that we have your ears bleeding from the Britney Spears video, we thought this infographic highlights some other interesting points.
We thought it was interesting to see that Britney has more followers on Twitter than the President of the United States, which is impressive considering the number of the musicians out there that have incredible talent that have not been discovered.
Talent does not Equal Success
Have we hit the point home with you?  Talent does not equal success!  If not, maybe this may help.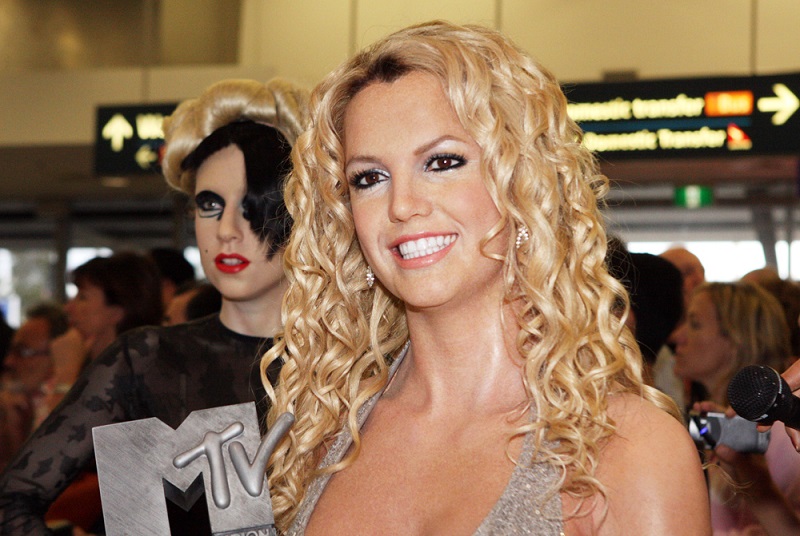 According to the Huffington Post Article, Britney Spears Net Worth is a staggering $46 million.
"Britney's $46 million net worth saw a nice boost in 2014, most likely due to her Las Vegas residency at Planet Hollywood. And the steady and huge paychecks from Britney's gig entertaining tourists are set to get even bigger.
With the combined income of $475,000 for each show (just under Celine Dion's per-show earnings of $476,000 for her residency) and her other business ventures, including her fragrances and a new lingerie line, TMZ reported that Britney earns around $1 million each week."
Who among us wouldn't like to earn $475,000 for every show?  That is especially a compelling question when the average working musician makes about $35,000 per year.
How did Britney get to this point?  You guessed it, she has a loyal Fanbase!

The Steps to Building a Fanbase Starts with Awareness
Awareness refers to any marketing initiative designed to provide visibility to your product. Awareness takes a number of different forms, but is most effective when you are targeting a community that is more predisposed to already liking similar things.
What does that mean to a Musician or Songwriter?  Building Awareness means finding fans that may like your music and letting them know you exist.  It is critically important for an emerging musician to get to know the types of fans that will connect with their music.   Look for and seek out bands, songs, etc. that are similar to what you do and research the demographic of their fans.  What type of person likes the type of music you create?
There is a fanbase for everything on the worldwide web.  Doesn't matter what you do, there is someone out there that likes it.
There are 3 Quick Steps to Identify Fan Demographics:
Find artist:  Look for Artist that are ahead of you in the success curve…not the superstars backed by the Major Labels.  If you don't know any, read the online blogs that are well known for seeking out and writing honest reviews of artist such as Pitchfork.   YouTube is another great place to research music.  Don't limit your search to a local area.  Looking nationwide and even worldwide can make a huge difference in the audience you market to.
Social Networks:  Review the artist social networks and research the fans that are making comments, forwarding their tweets, etc.  The engaged fans that actively promote a musician is one that is passionate about them.  Finding out what motivates them is important to find fans like them for your band.
Bloggers: People who write articles on their blogs about artist are critical to the success of a band.  Bloggers can easily have a reach and following greater than Billboard and Rolling Stone magazine combined.  There is a search engine conveniently called the Blog Search Engine that makes it easy to search for a topic that returns blog results.
Awareness Continued: Demographic and Psychographic Overview
Traditionally, demographics have been the bread and butter of analytical information for marketers. Demographic information is the information that one typically sees on a census like age, ethnicity, gender, geographic information, marriage status, whether you have kids or not, and so on. While some of this information is helpful for music marketers—particularly geographic information, as it pertains to routing a tour—demographic information can be a lot less helpful than psychographic information.
The Second Step in Building a Fanbase is Acquisition
Once you have the attention of a prospective fan, it is a marketing best-practice to obtain some form of permission-based contact. From an online standpoint, collecting an email address from someone who has listened to one of your songs is a form of acquisition. From a social standpoint, Facebook fans, Twitter followers, Instagram friends, and YouTube subscribers can be considered permission-based contacts as well. Physical forms of acquisition include capturing the address of a fan, or collecting a phone number.
Collecting permission-based contacts allows musicians to continue a relationship with their new fan after the initial awareness phase. It's important to note that the different forms of permission-based contacts result in different monetization opportunities down the line. Email marketing, for example, usually converts at a higher rate than social-based contacts.
One of the best ways to do this is to provide something FREE to the potential fan in exchange for their email address.  The Acquisition stage is far too early to ask for money.  Imagine the process being like a date.  The first step, Awareness, is like glancing at each other across the room in a bar.  The Second stage is walking up and talking with them…hoping to say the right things and get their phone number… This is the Acquisition stage for a band.  Now that they know you exist, you want to get just enough interest in what you do to get them to provide you with an email.  Giving something of perceived value away for FREE is the best way to do this.  Could be a song, but could also be something personal like a signed photo of the band or a recipe on how to make a killer Margarita.  Anything that has a minimal cost to the band, but enough perceived value for the potential fan that they would be willing to part with some personal information.
The Third Step is Building an Online Presence
The third Step may actually be the second or even the first step, but we want to make sure and include this in series.  It is important that your band and music is represented positively and professionally.  When a potential fan searches for you on the internet they need to find you!  It is critical that a Musician's website, twitter, Facebook, Instagram, YouTube, etc. sites have a consistent design and present a professional image.
There are several sites that provide a variety of services to bands.  The most popular are Bandcamp and Topspin for general hosting of band websites.  Both of these services charge fees.
Bandcamp will host a site for free; however, they take money off the top for sales — 15% for digital sales and 10% for merchandise sales.  They have tiered pricing.  When sales are $5K or greater in digital sales the commission decreases from 15% to 10% (https://bandcamp.com/pricing).
Topspin charges a fee to host a site.  The pricing starts at $9.99 per month for basic services, $49.99 per month for presages and other marketing services and $99 per moth for Enterprise services that support split commission payouts (https://www.topspinmedia.com/products/topspinplatform/).  Topspin also charges percentage of sales as well that average 15-20%.
Here's a video that provides a good overview of the Topspin services:
Other options
Something that many of you may be thinking is why not use a Facebook page to build our fans?  They are free…Right?  We highly recommend that you use Facebook to build Awareness and Engage with Fans, but it should not be your primary site.
The reason using a site you do not directly control is because they frequently change their terms and conditions that limit access to your own fans.  A good example of a social network that hurt many musicians when the tides of the internet changed is MySpace.  Remember those guys?  Bands, Record Companies, etc. invested major money and time building custom MySpace websites and developing fans only to see it all disappear practically overnight.
There is no way to reconnect with the fans that are lost if a social site changes their policies or goes out of business.  Those artist have to start building again from ground zero.  Same holds true with Facebook.  They keep most of the information about followers private and charge page operators to connect with their own followers.  Further, even when an artist pays to Boost a Post, there is no guarantee that their fans will ever see it.  Facebook uses an algorithm that promotes based on $$ spent.  One can hope a post makes it into a fans newsfeed, but there is zero guarantee that it will.
Cash Music
Cash Music is a non-profit company based in Oregon.  They have build a very powerful music marketing platform that is funded by investors, not musicians.  The platform is 100% free for musicians.  What is the catch? It takes some IT skills to setup.  Bandcamp, Topspin and other similar services do the backend legwork to create stock website templates, integration with Amazon for image hosting, commerce collisions, etc.  Cash Music provides the conduit to these services, but the Artist using their platform has to set everything up on their own.  Amazon S3, for example, is where files are stored for the sites.  The users have to sign up with Amazon and create an S3 account.  The good news is that anyone with an Amazon account can sign up for S3 for free.  They do charge fees for data traffic, but it is minimal.  Cash Music is a bit more technical to setup, but it will scale with an artist from a small band to a huge worldwide fanbase without any problems and it is free!  We believe it is well worth the time it takes to get the sites configured than to pay 10-20%+ of sales to a third-party.  That money can be used to make the next album.

The Fourth Step is Engagement
Once a band has the permission and the means to reach out to fans, the next step is to properly engage with them. Engagement can take various forms, including email newsletters, social posts, text messages, direct mailings, and much more. Proper engagement is a key factor relating to the final step of marketing: monetization.
Fans love being connected with musicians they love.  The best way to do that is to give them a peak inside the lives of the band.  Writing posts that let fans know what you are doing, what city you are in, who you had dinner with, etc. will get a lot of traffic.  However, the best way to engage fans is through video.  Live broadcasts from Back stage using Google Hangouts, Twitter Periscope, etc. is a great way to get them engaged.
Fans, of course, have to know you are going to be live on video. This is where the emails come in handy.  Send them an update letting them know you will be live at a certain date and time (include the timezone).  You could even ask them to sign up for the event using free services such as Eventbrite.  This strategy goes back to the FREE exchange we mentioned earlier.  Tell them about an event they will be interested then ask them to give up something personal to get access to it.  Eventbrite can be used to collect more demographic details about your subscribers that can help with marketing efforts down the road.  The final step would be to send a notice to the Event subscribers letting them know a Live event is starting, but to also send a note via email and post to all social feeds (Facebook, Twitter, Instagram, YouTube, etc) announcing the event is going to start.
Engaging fans through various channels and providing them something FREE or exclusive will keep them engaged long term.
The Fifth Step is Monetization
Alright, we are almost through this post on 5 Key Ways to Build a Fanbase!  Monetization is the last, but most exciting step in the process.  This is when you can actually start making money!
Once you have made fans aware of you, captured their contact information, and been engaging with them, you have made it to the end of the "conversion funnel" — monetization. A common trait among new musicians is to attempt to monetize prior to having the previous three marketing pillars buttoned up. Of course, without fans with whom you can communicate properly, monetization is not going to be effective.  The VERY IMPORTANT point is NOT to try to get Fans to pay for anything until all of the above steps are in place.  If we think about the dating example we mentioned earlier, Monetization is the point dating moves to a marriage.  This process takes time to develop before the Fan is ready to commit to your band.  Rush it and you will likely put off the new fan and disengage them.
When Fans are engaged they will stay that way as long as you keep them engaged.  People are naturally fickle.  They will divert their attention elsewhere if you don't continually communicate with the.  The key is to provide them with  communication that isn't always asking for money.  When you drop in money making opportunities in-between times of routine updates it increases the probability they will convert.   For example, when you hold a concert email everyone in the area letting them know.  Offering a VIP gift of some sort helps.  Create an interesting product and then offer it as an exclusive for fans.  Customized lighters, coffee cups, mouse pads, gold plated sculls with the band logo, etc. can all be created easily now days.  Hold online concerts and charge a discounted fee for loyal customers to watch the event.  Live streaming is much easier now days with YouTube and Facebook live available.
Another good monetization step is to follow how the major record labels do business.  They promote an album before it is out.  Then they drop a song, making of video or something to peak interest, they will then release a single ahead of the record release, they will then offer preorder opportunities to fans giving them a few extra tracks or something, and finally they drop the release.  The more excitement that can be built before a release the more sales one will get at the release.  Preorders also give a good idea of the demographics of the fans that are buying the album.
Conclusion
Wow, you made it this far!  thank you for reading!  We compiled as much detail as we could for the 5 Key Ways to Build a Fanbase.  We will continue writing on the topic.  If you want to stay in touch with the music industry, please considering signing up for our newsletter.

The foundation for Musicians and Songwriters is a 501(c)3 nonprofit dedicated to helping artist get their music to the world, helping all of humanity. Artist need our help to make it.